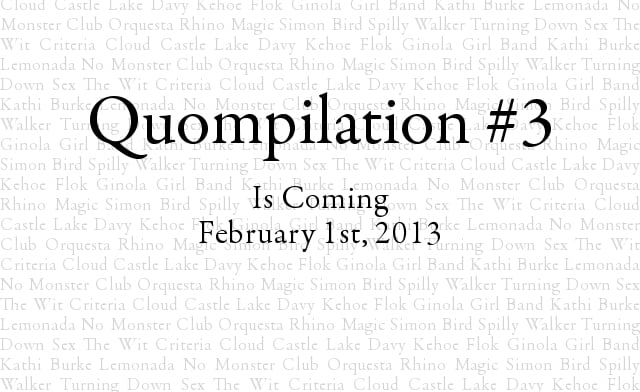 Quompilation #3 Pre-Order
€

10.00

/ Sold Out
---
Quompilation #3 will be the final release from the Quarter Inch Collective. It will be released on cassette and digital download on Friday, February 1st with a launch party on that date in the Workman's Club on Wellington Quay, Dublin 2.
Quompilation #3 will feature 12 Irish acts doing cover versions of songs from 2012. The cassette will be limited to 150 copies. The download will be free. Artwork for the release will be imagined and created by Fuchsia MacAree. There might be a limited edition poster, we'll see. Most (hopefully all) of the bands listed below will perform at the launch party.
If you pre-order Quompilation #3, you will receive a personalised copy of the cassette and free entry into the launch party. This is probably the only chance you'll have to get a physical copy if you can't make it to the launch.
If you would like to pick up your pre-order at the launch, just select Antarctica as your shipping destination.
The artists appearing on Quompilation #3 are as follows, in alphabetical order:

Cloud Castle Lake
ARROW-SHOWER
Ginola
Girl Band
Kathi Burke
No Monster Club
Rhino Magic
Simon Bird
Spilly Walker
Turning Down Sex
The Wit Criteria